I recently purchased for Miss Mango a box set of the Mary Poppins stories. She is a little young for this reading at the moment, but it is one of my favourite children's books and deserving of a place on her bookcase (and yes, I still read children's books as an adult, I frequently dip into The Faraway Tree).
It ties in quite nicely with a recent conversation about recreating outfits from movies. I said that one dress that inspired me and that I would like to copy is from the wardrobe of Mrs Banks, her "Sister Suffragette" outfit in yellow and blue.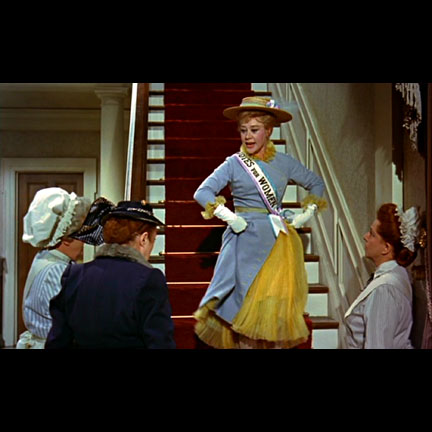 There is so much I like about it. The pastel blue teamed with the bright yellow, the layers of fluffy chiffon and tulle, the way the petticoat cheekily pokes through skirt front. The velvety soft look of the blue fabric. As a child/teen watching the film, I coveted that dress. I still do, so I'm adding to my list of garments to recreate (one day).
Googling for images was very successful as I found this oh-so-handy set of pictures over at The Golden Closet: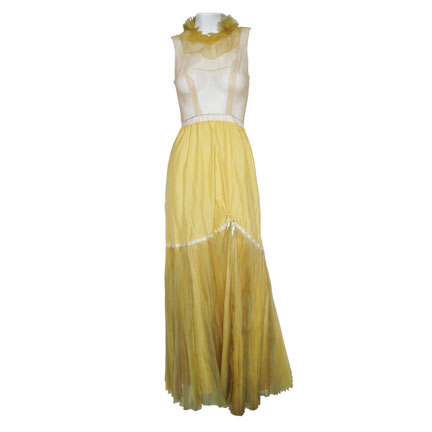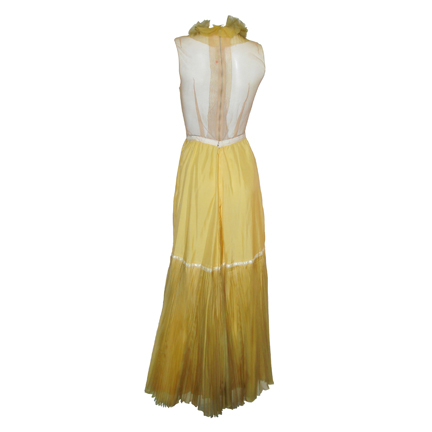 The very garment itself as worn by Glynis John in the film and sold through a memorabilia website. The details say that it is silk chiffon, thats about it. I find the construction very interesting, I wasn't expecting the petticoats to be part of a full slip nor for the ruffle collar to be attached. I'm guessing the sleeve ruffles were attached directly to the dress itself? I wonder where the slip (and dress) is now?
The site also informs us that costume designer, Tony Walton, received an Oscar nomination for his design. Unsurprising considering how iconic the film's costumes are, I should think pretty much everyone can instantly conjure up Mary's image:
Walton's Oscar opportunity was pipped by Cecil Beaton's incredible work on My Fair Lady. I think it's fair to say Walton never stood a chance.
On the subject of Beaton, have you ever heard the story behind another of his famous monochromatic gowns, from the film Gigi?
Leslie Caron, who played Gigi, reminisces: "When he showed me the sketches, I said, 'Wonderful, especially the white satin dress with the black birds.' He said, 'I was drawing ribbons, but if you want birds . . .' So he put swallows on the dress."
Caron stars in a favourite Golden Era film of mine, Daddy Long Legs, with Fred Astaire. If you're looking for great 1950s inspiration (from cigarette pants to ball-gowns) as well as a bit of sugar-sweet Hollywood indulgence, this film has both in spades as it follows Caron's character's evolution from orphan to wealthy beneficiary.
Hmm, My Fair Lady, Gigi, Daddy Long Legs, the film-makers of yore certainly loved charting the girl-to-women transition in rags-to-riches storylines!
By the way, if you haven't read the P. L. Travers, Mary Poppins books I thoroughly recommend them. They're just full of Poppins magic and charming characters, beautifully tying in gentle moral messages into the behaviour of the children, the film barely scratched the surface.