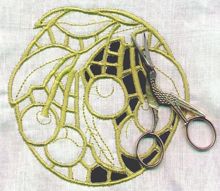 Last week BurdaStyle published a
great article on cutwork
, very inspiring and while I have tried applique (poorly) I hadn't thought of trying this but by the end of the article I had decided to give it a go. In fact I thought it might be perfect for something I am making at the moment.
It's a great way to add a vintage touch to sewing. Cutwork as a way of adorning linen (cloth, sheets) has been in existence since at least the 12th century and later become popular as a finish for all manner of clothing including undergarments and accessories such as gloves and parasols.
As I sat this morning trying it for myself, I can see this would have been one of the ways that Jane Austen's girl's would have whiled away the hours waiting for their Mr Darcys to call or ladies sat by wirelesses listening for news of loved ones overseas fighting for their country.
The BurdaStyle article doesn't have photos for its tutorial, so here a few shots of my first attempt this morning, it is a bit quick and rough, this is about half an hour's work. I used to be able to handsew beautifully, I am evidently out of practice but I shall be doing much more of this in future so there's opportunity to improve!
I used a medium-weight linen as my fabric, its got quite a clear weave which helps to keep stitches even and tightly woven enough that it won't fray.
Using a tailor pencil I drew an outline of a shape to create. I then drew a second, parallel line about 1/8" inside the original lines.
I then traced over these lines in thread like
sew
so --->
They're a bit quick and long to be neat but they're to pad the button-hole or satin stitch and aren't visible afterwards.
Using double thread and button-hole or satin stitch, start a stitch just outside one line and carry thread over to outside of opposite line and finish stitch.
The fabric should be in an embroidery loop to help prevent puckering. Also with large cutouts it is recommended to sew "bars" across the middle to help prevent he shape skewing. As this was a trial, I didn't add any bars but I would use them on a shape this size (about height of a needle) done properly .
I used thread snippers to cut through the middle and then around the inside of the stitching.
Et voila!
Addendum: These were my first attempts at applique for a show costume - Chilli Peppers!
I drew the design myself and tried out the satin stitch on my machine, unfortunately the exercise proved that my machine is not up to doing much other than buttonholes with that stitch,I'll make sure my next one will!