It strikes me that pattern companies are onto something great with the retro/repro lines they are doing. I recall reading on the Vogue website that they are always interested in suggestions for patterns to recreate from days gone by (and not just 40s and 50s but favoured 60s and 70s too). You must be willing to part with your pattern for a while so that it may be copied but it is returned and you get a few freebie patterns in return, not a shabby deal.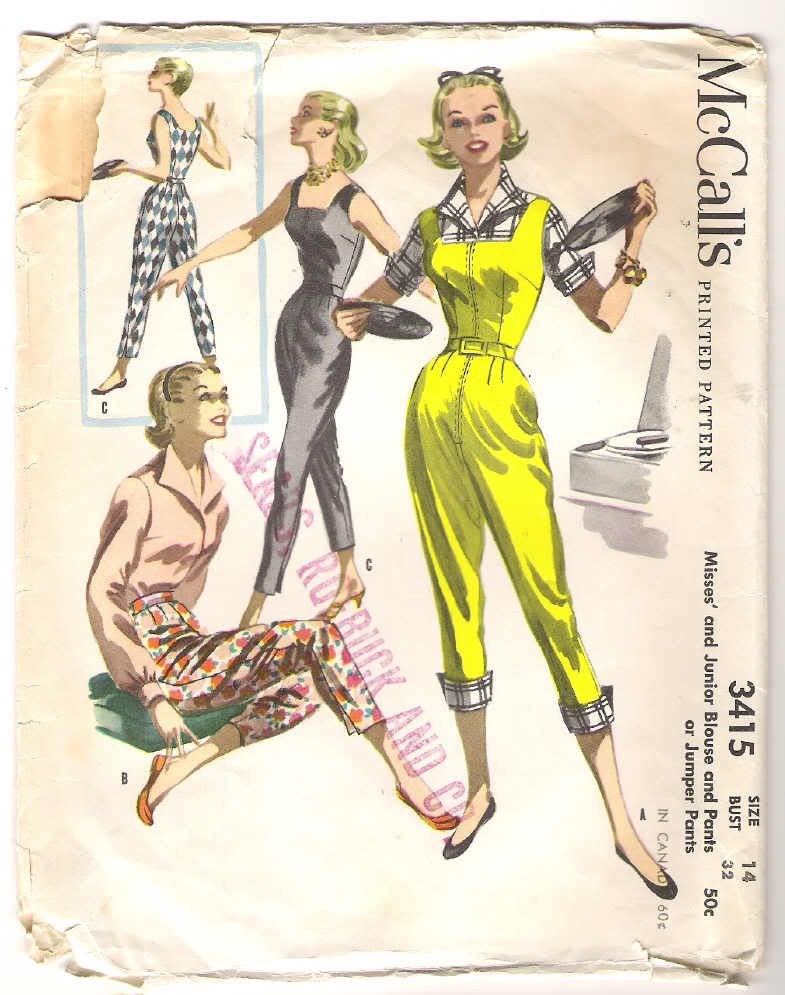 Quite what the criteria for selection is I am not sure, marketability is obviously a list topper, but the patterns all seem to be pretty samey, a selection of 1950's full-skirts and wiggle dresses with minor bodice and finish differences. But as vintage pattern enthusiasts we know there is a plethora of much desired patterns out there that would surely have us running to pattern shops in droves if they were re-released. Take this one for example that I was recently outbid on. I adore it, I am a self-confessed jumpsuit junkie. I could draft it myself from a dress jumper bodice and a pair of slacks but the idea of the trousered jumpsuit patten from the '50s, its such a rare item to see. Of course I am disappointed that it won't be gracing my collection, but with the winning bid coming at £36 (yes, that much!) it was never to be!
Simplicity seem to be the only pattern company going the slacks route and a sharp-eyed Debi (
My Happy Sewing Place
) recently discovered that their 3688 pattern is a bit of a fraud for the original didn't actually have a slacks pattern included, it has been incorporated on the re-release (click link for her post). Hmm, naughty tactic but good on them, authentic slacks patterns are hard to find, or rather, not so hard to find if you are willing to part with a fair few pounds for them! So BMV, lets have some slacks and gorgeous 30s louge pyjama pants pretty-please?
Who's drooling with me? Want it? Just £35!


Next on the wish list, 1940s/50s styles swimsuits. Who wouldn't want to own that pattern? Incredibly feminine, figure flattering and with sufficient coverage to ensure the disguising of hips and thighs and any other bits we swear wobble too much! The originals always sell well, again they are few and far between. A repro could be just what we need.
One of the most satisfying things as a vintage pattern collector must be coming across a reproduced pattern and thinking "I own that - the original!". I hear that an original copy of the
Walkaway dress (re-released as Butterick 4790)
could earn you quite a lot of smackeroos if you came to part with it. Last week I came across Butterick 6174, a 1999 release of a 50s pattern, it was familiar, I could swear I owned it but I would have remembered it being a retro pattern, so quick stash visit and hello Butterick 6001! Purchased for a bargain £3.11 plus shipping! Of course it is tiny and I will have to grade it up to use it but there-in lies the beauty of the repro pattern, modern multi-sizing!
You look familiar...
Hello pretty bargain!
A quick visit to the Butterick website made me smile, I also own in original form this cutie:
And very nearly bought this original recently:
So over to you, dear reader. Which patterns would you like to see in reprint? Or would you prefer to own the original masterpiece?